We advocate and fight for our clients every step of the way.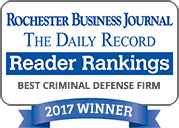 We take a proactive approach for our criminal defense strategies. We believe that by acting quickly, preparing thoroughly, and applying our years of legal experience and skill, we are often able to find effective solutions.
At Trevett Cristo, we represent clients in criminal law matters in courts throughout Upstate and Western New York. Our hard work and commitment have earned a reputation for excellence and integrity. When it comes time to prepare a case to take before a jury or seek a resolution with the prosecutor, our name is held in high regard.
Sometimes good people end up in bad situations.
When you're in trouble, you need a lawyer in your corner who will fight to protect your rights and guide you through the process. That means we're going to listen to you, communicate with you, vigorously defend you, and treat you with the respect and dignity you deserve. It also means we look at our clients' cases with a big-picture point of view, so we can help you determine the best course of action with your future in mind.
A key to forming a solid case is urgency.
Contact us as soon as possible after you have come under investigation for a criminal offense or have been arrested and charged.
Driving while intoxicated (DWI)
Felony theft charges, grand larceny, fraud, and embezzlement
Misdemeanor and felony drug charges, drug possession, and marijuana possession
Domestic violence defense
Vehicle and traffic offenses
Violent crimes: assault and sexual assault
White collar crimes
Veterans issues
Post-conviction: appeals, 440.10 motions, and habeas corpus proceedings