Our Philosophy
We're not about taking on as many clients as we can. We're not about shuffling cases off to junior associates or adding more lawyers to your team than your case needs. We're about doing everything it takes to help our clients achieve the best legal outcomes. We're about being responsive and respectful, adding value, and building trust. Indeed, our approach to law is to give each client exceptional service and representation every step of the way.
Our History
We began as Brown & Zurett in 1926. Our firm was one of three affiliated firms in Upstate New York founded primarily to serve the legal needs of major insurance carriers. As our reputation among judges and peers spread across Upstate and Western New York, we became known as an outstanding law firm, representing both business entities and individuals in their litigation matters.
Today
Today, our practice areas are many. Litigation and dispute resolution are the foundation of our success. We also provide a wide range of commercial and personal services that include transactional law, real estate, personal injury, bankruptcy, and medical malpractice. In addition, we represent public-sector unions in contract negotiations and litigation matters.
What sets us apart
We are a litigation firm that has set the highest standards for case investigation, preparation, and legal strategies. Our lawyers practice before all state courts and federal courts in the region, as well as regulatory and administrative bodies. Our staff stays on top of state and national developments in the law, and our attorneys are proud to participate in professional presentations and educational opportunities for students and colleagues throughout the region.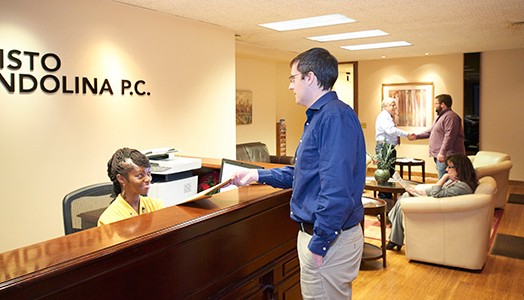 Our development
We have developed numerous resources to assist in the effective litigation of cases, and have access to complete electronic research and case management capabilities. When appropriate, we rely on a network of independent expert resources, which we have developed over many decades of practice. The utilization of these resources, together with many years of trial experience, enables us to provide quality legal services at a competitive fee structure.