Trevett Cristo P.C. Named Best Criminal Defense Firm in Rochester
Wednesday, August 9, 2017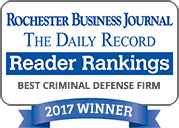 Rochester, NY, August 4, 2017 - Trevett Cristo P.C., a local law firm that has been serving the Greater Rochester community for over 90 years, is pleased to announce that the firm was voted number one, Best Criminal Defense Firm by readers of the Rochester Business Journal and The Daily Record.
"I would like to extend my congratulations to the criminal defense team," says Louis Cristo, president of Trevett Cristo. "Being recognized is a great honor for the firm and a testament to our team's ongoing hard work."
The criminal defense team, comprised of Clark Zimmermann and Eric Dolan, partners and Emily Fusco and Michael Geraci, associates, believes that it is their outstanding track record and distinct approach to criminal defense that has led to this honor.
"We respect every client's personal situation and provide passionate, unbiased advocacy," said Zimmermann. "By acting quickly, preparing thoroughly, and applying experience and skill, our team is able to help clients navigate the complexities of our justice system and deliver the best possible outcome."
Trevett Cristo P.C. is headquartered in Rochester, NY. The firm serves clients across Upstate and Western New York and focuses on a range of practice areas, including civil and criminal litigation, commercial law, residential and commercial real estate, business transactional law, personal and family law, estate planning and labor matters.